UI/UX Design and Development
Hadfield Stieben & Doutt, a recently formed personal injury law firm based in Fort Collins, Colorado, came to us looking for an SEO-aware design and development partner to guide them through a full website redesign. They were seeking a site that would not only bring in new business, but also communicate the local, caring, boutique qualities of their firm.
A rich SEO strategy and vibrant marketing website for a friendly Colorado personal injury law firm.
Create a user experience and content plan that would resonate with their target audience, driving them to convert.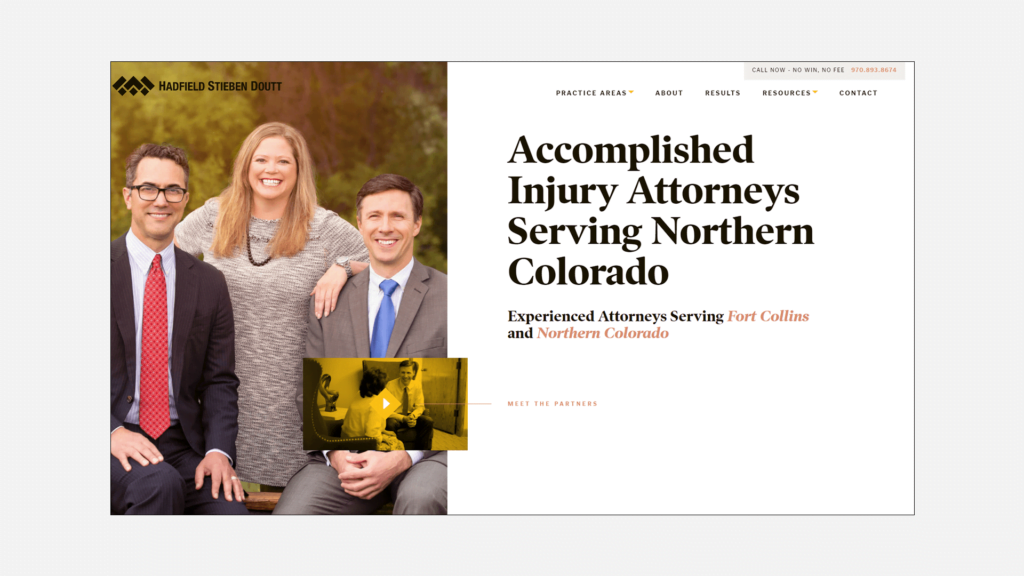 Crafting a Visual Language for HSD
I kicked off the visual design phase with a comprehensive competitor analysis. During this audit, I observed most law firms' aesthetics felt cold and uninviting. This felt wildly off base for HSD. Not only are their clients most likely seeking comfort and assurance, HSD's approach is notably local and personal; partner Bill Doutt commented during the kickoff that they "often bump into their clients are the grocery store," and they often sponsor community events. We wanted to make sure the website communicated this vibe visually. Poynter Gothic, a beautiful humanist serif, conveys a comfortable and personal feel, while the warm, "Colorado" focused color palette communicates empathy, compassion, and authenticity.
An Empathy-Driven Approach to Product Feature Ideation
An interactive 'step by step' module (featured on the homepage and practice area pages) demystifies potentially intimidated first time clients. This empathy also led us to the idea of creating a dynamic glossary of terms as a resource to prospective and current HSD clients.